behind the design
Meet the makers who dreamed up our new Domino collaboration as they share the inspiration behind the colourful new collection. (Spoiler: They're just as cool as their designs.)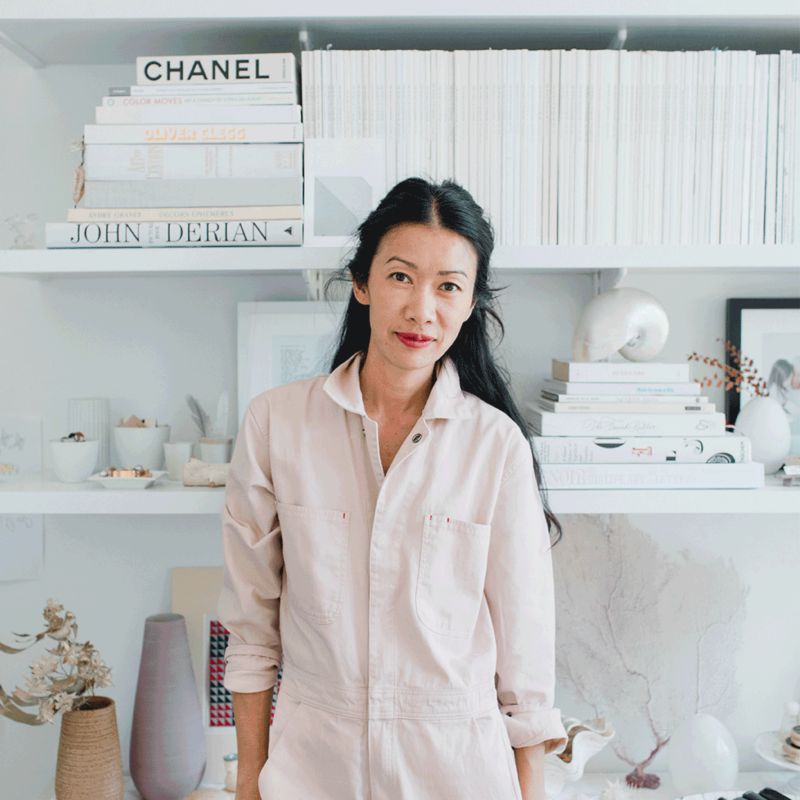 KATE BERRY
The Chief Creative Officer of Domino and mama of Quinn knows that the key to a beautiful space is intersecting style and functionality.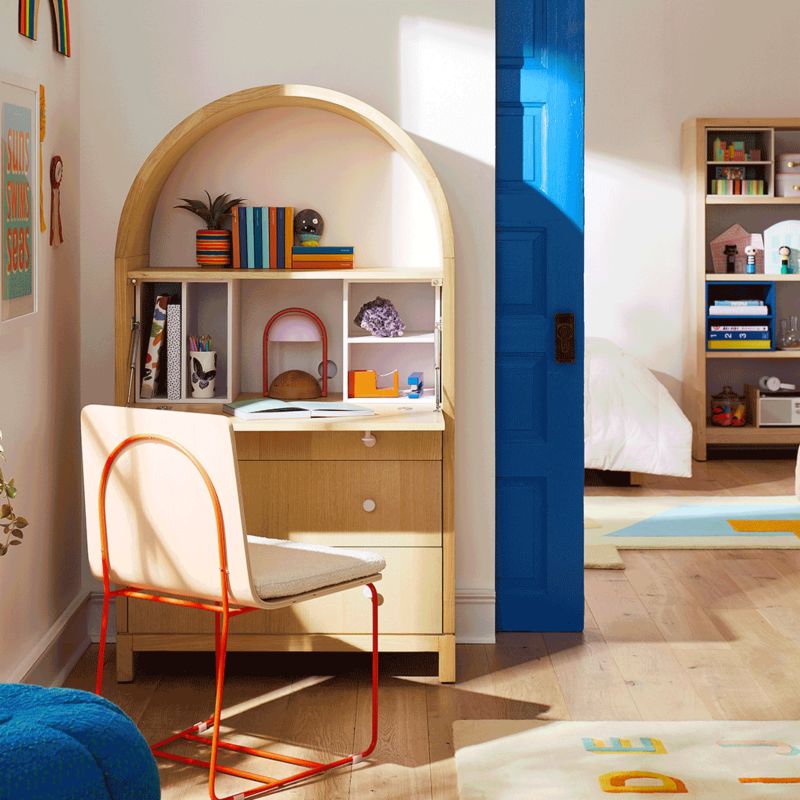 With a curved wood frame and hide-the-homework secretary design, our new Murphy Desk checks all the boxes. Tip: Add one of our colourful Rook Cube Bins to get (and stay!) organised.
"The idea for the collection started as a personal need: I have a 7-year-old daughter who needed a fun but more grown-up space, with more organisation for home learning and, in general, her own space and furniture she could grow with. She needed an actual desk that had an organisational component. It was important to design furniture that was functional but fit in any size space, like our New York apartment. I thought, if I need this then other people need this too."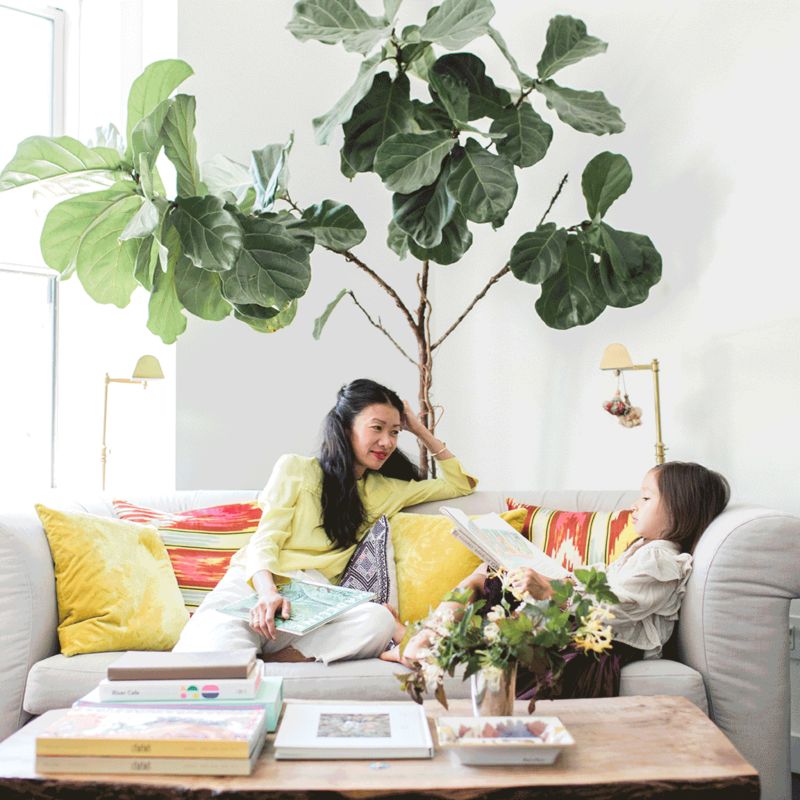 Kate Berry hangs out with her design confidant and 7-year-old daughter, Quinn, who inspired the collection's multipurpose + colourful POV.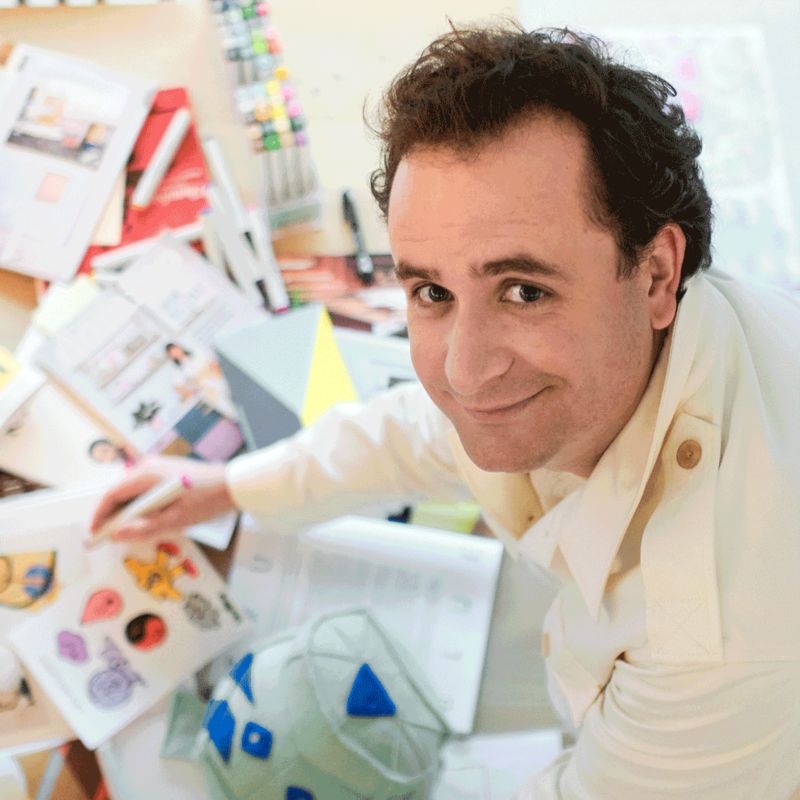 SEBASTIAN BRAUER
As the VP of Product Design at Crate and Barrel, Brauer loves how an inspiring design can encourage kids' self-expression.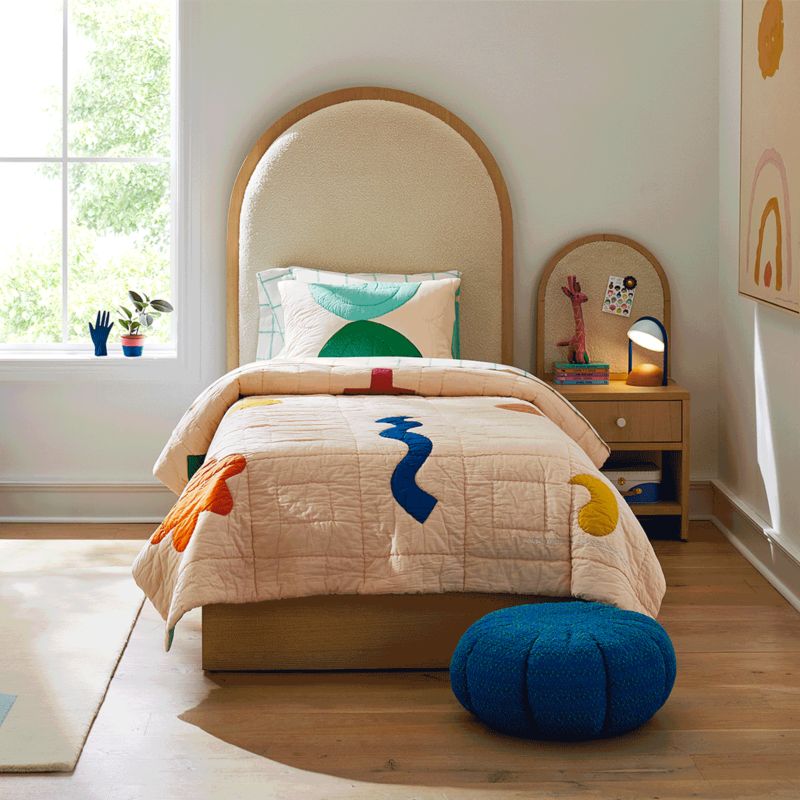 "It's important that kids are surrounded by not only functional spaces, but also positive energy and joy. This collection does just that: It inspires different personalities, attitudes and self-expression through colour, art and modern design."
FAVOURITE PIECE: T Street Crib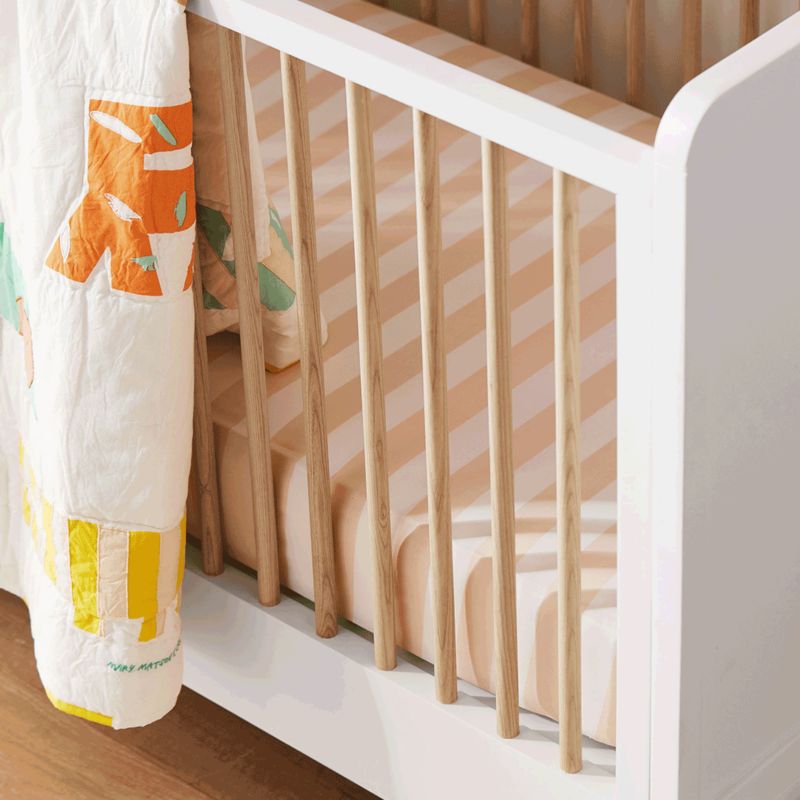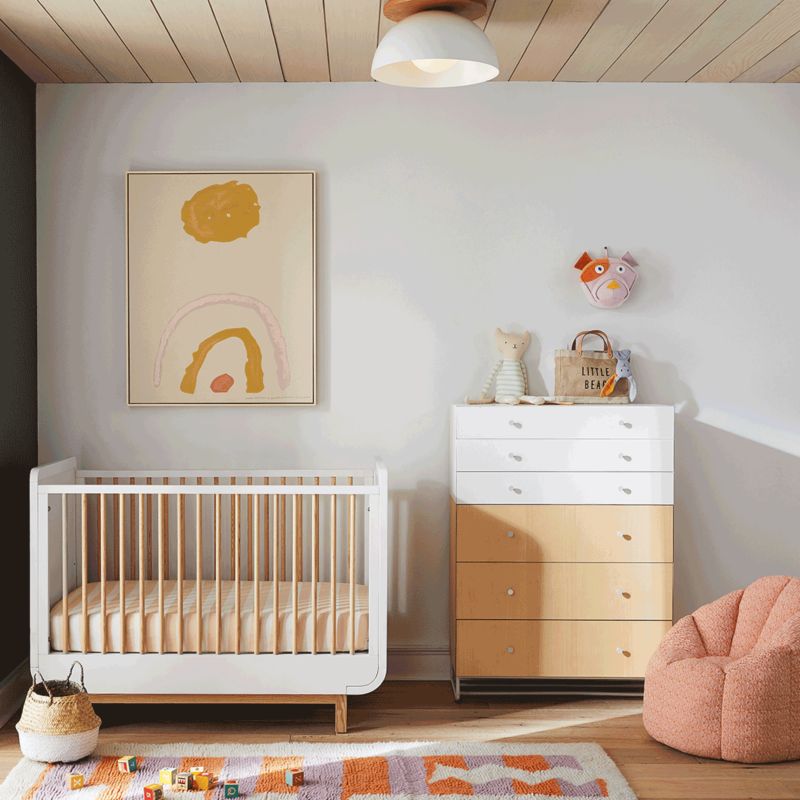 From crib to toddler bed to daybed, our T Street Crib's modern vibes will grow with your little one.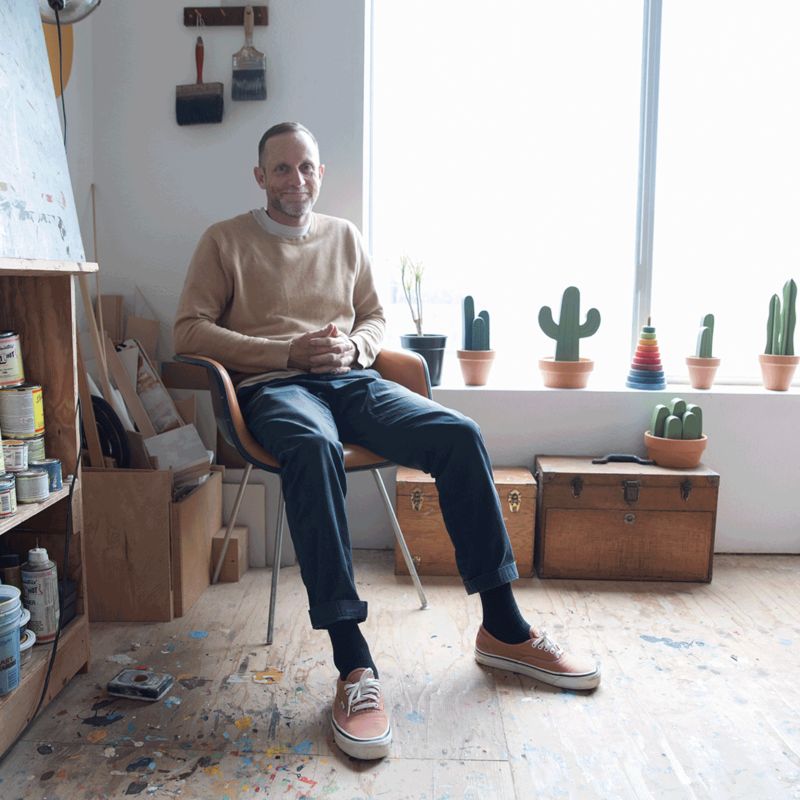 JEFF CANHAM
The acclaimed San Francisco artist (and frequent surfer!) infuses his playful graphic prints with a West Coast sensibility.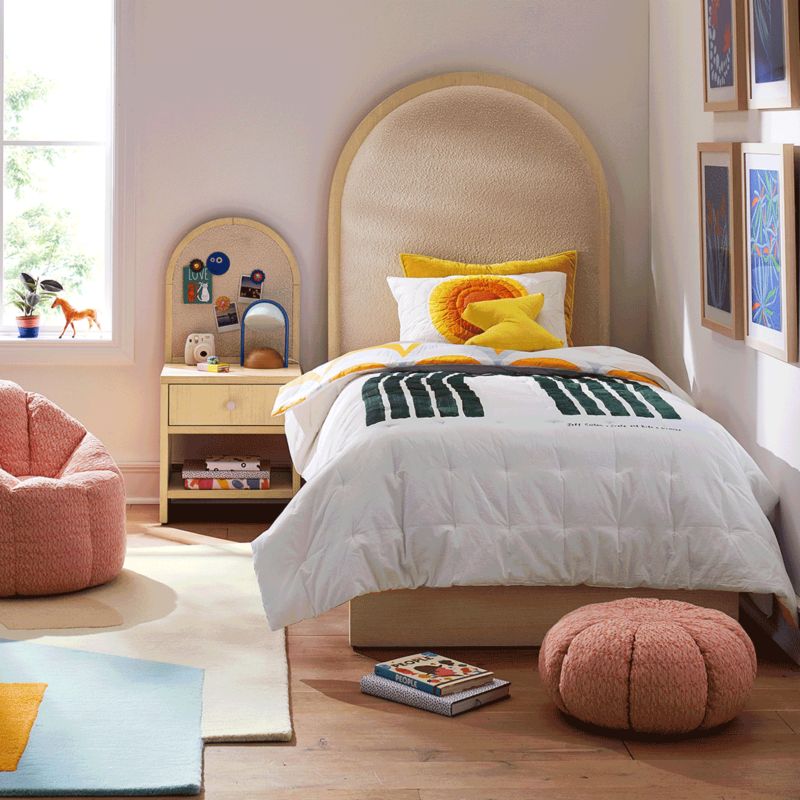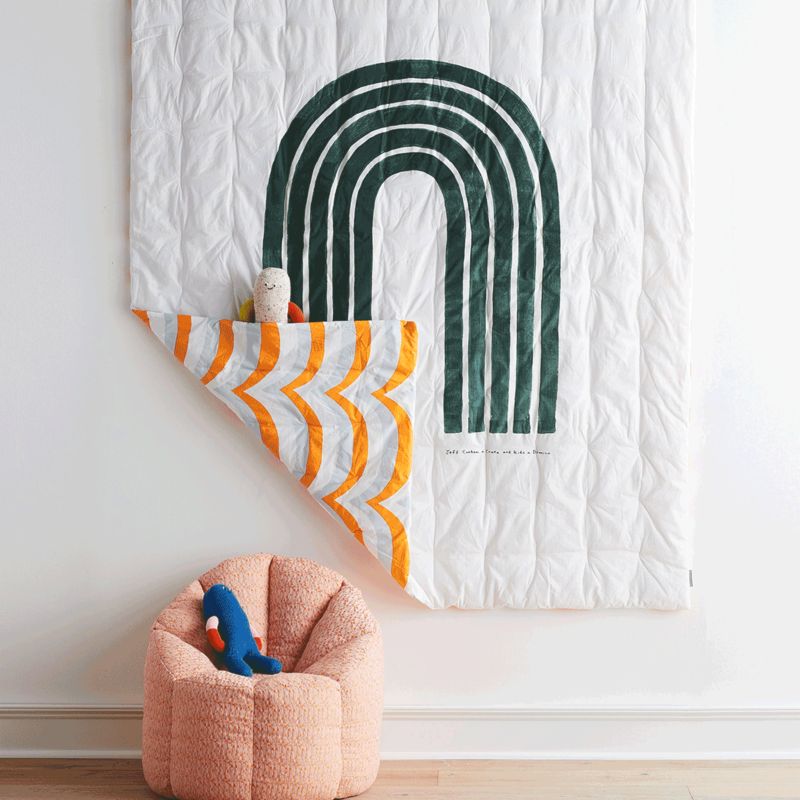 "I grew up in Hawaii and I'm an avid surfer, so I pulled a lot of my inspiration from my experiences, as well as my background as a sign painter and graphic designer. I hope that each piece inspires young people to look at their surroundings in a new way. That one person may look at the work and get something different out of it than the next person and that both interpretations can be right."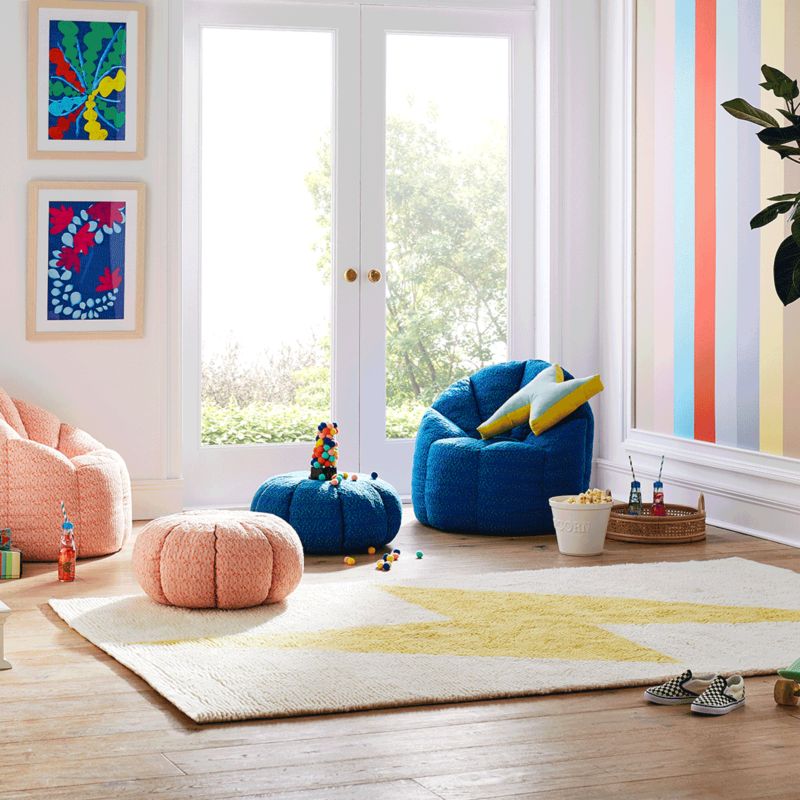 Create an instant cosy corner with our Renn Chairs and Poufs, plus our electrifyingly cute Bolt Washable Rug.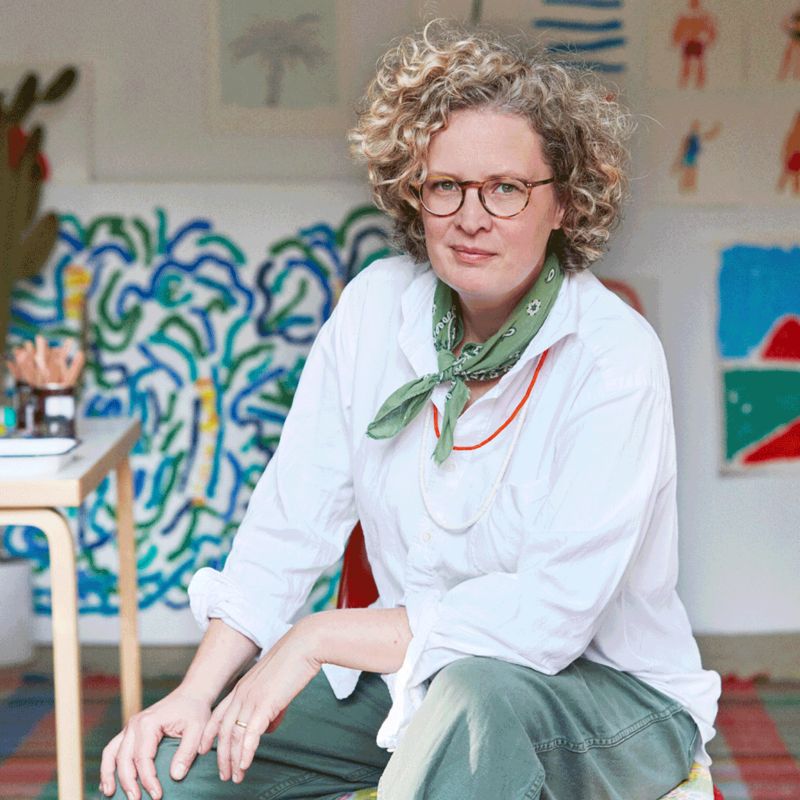 MARY MATSON
Known for her whimsical illustrations with a kiss of California, the Los Angeles–based artist brings her fun and colourful POV to the collection.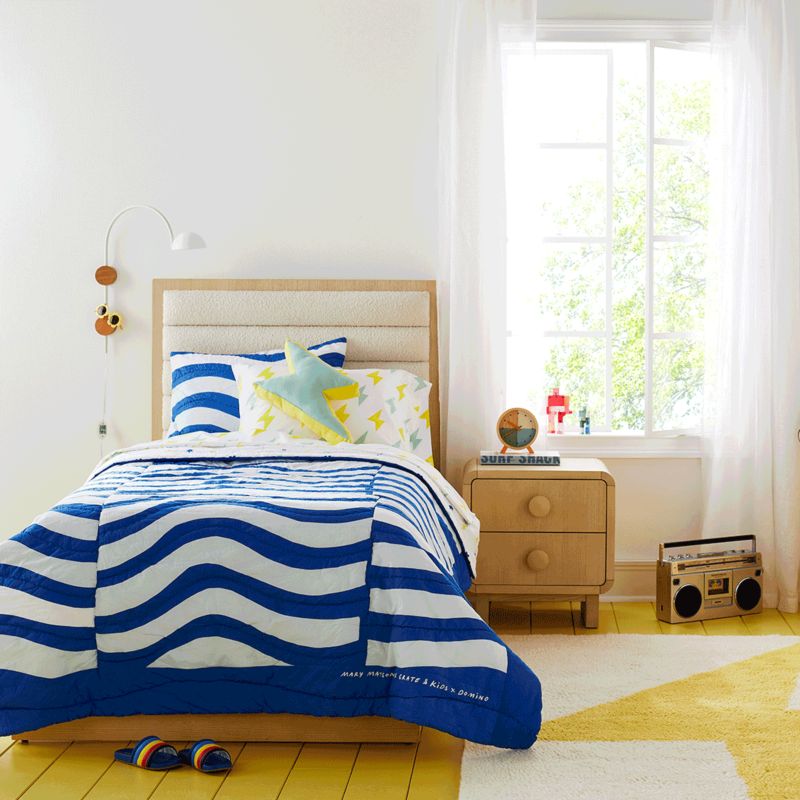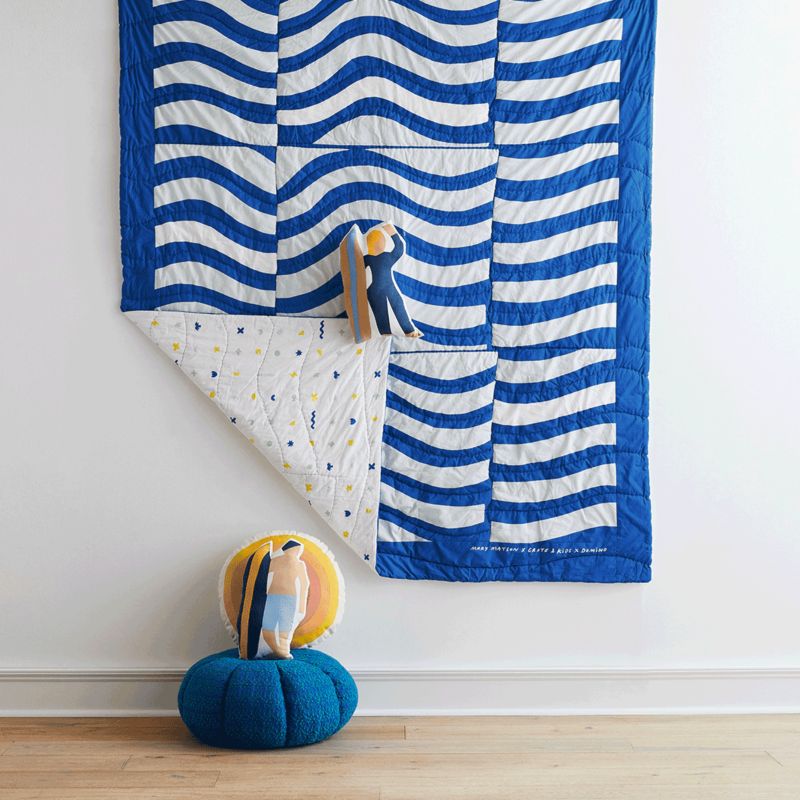 "This collection is so Domino! I was inspired by their eclectic, colourful and chic world. I really feel like this new collection is not just for kids. You can mix and match the pieces to style any room to feel personal and inspired."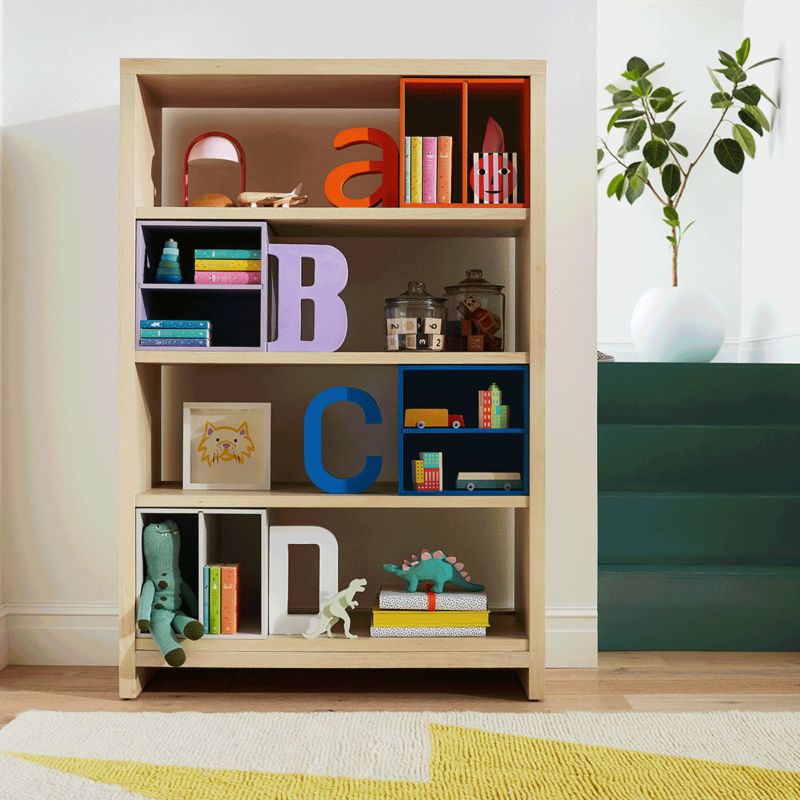 From playrooms to living rooms, our new Rook Bookcase can adapt to any space with its streamlined design + mix-and-match Cube Bins.
FAVOURITE PIECE: Bolt Washable Rug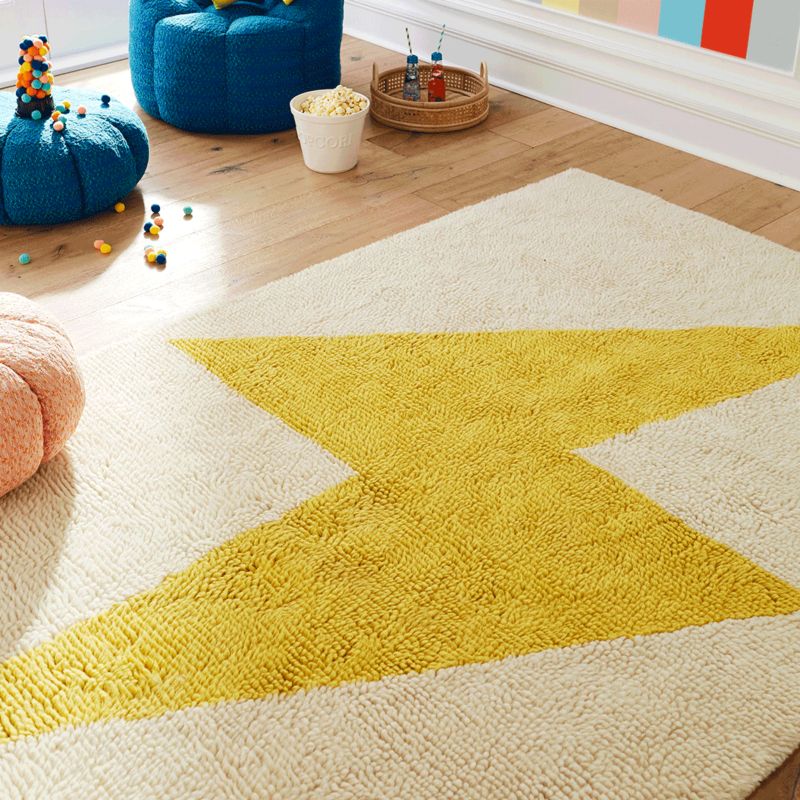 Spark creativity with our bold Bolt Washable Rug.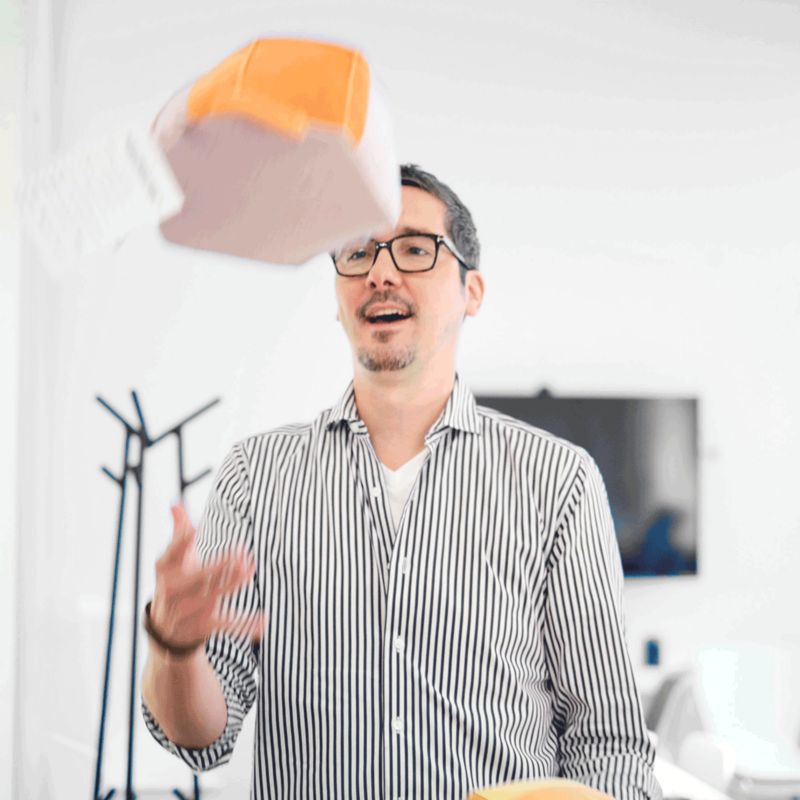 DAVID HANSEN
Crate and Barrel's Creative Director (Print, Pattern, and Colour) knows a thing or two about colours and patterns, so it's no surprise that this collaboration's curated palette feels like a ray of sunshine.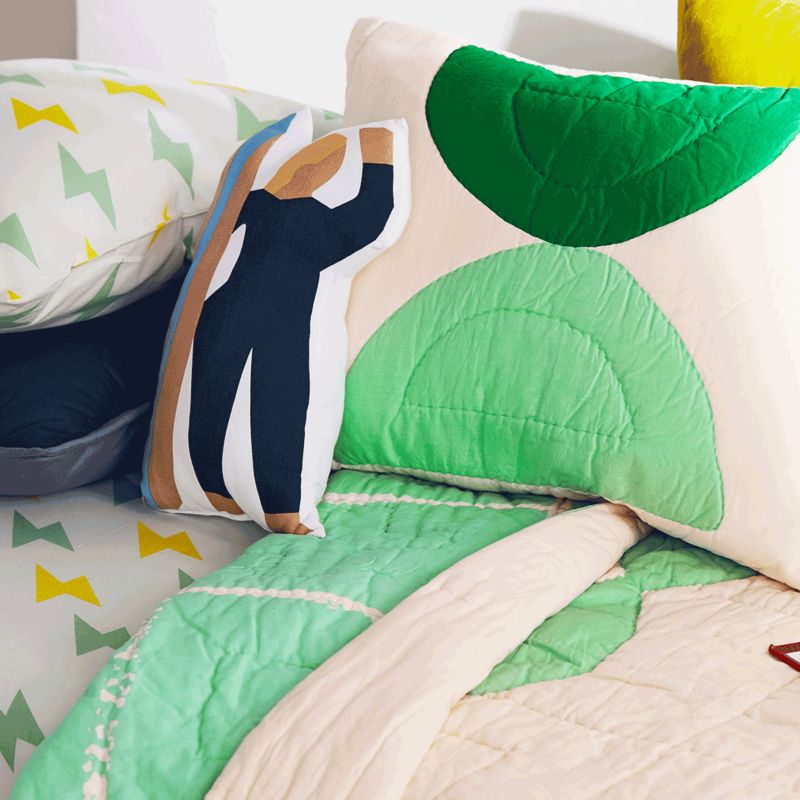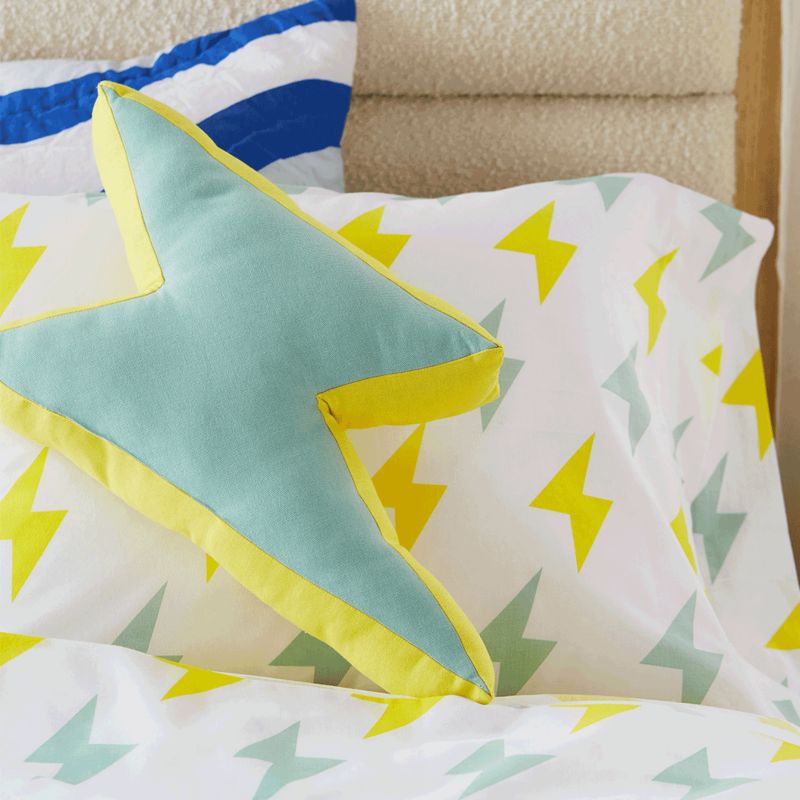 It's all in the colourful details: our Trestles Lightning Bolt Sheets + Speedway Organic Quilt + Sis Surfer and Zuma Lightning Bolt Pillows.
"It was fun working with Kate Berry closely on the palette. It's super fun and young while also feeling beachy and Californian. The colours are quite punchy and vibrant, making the entire collection different and exciting."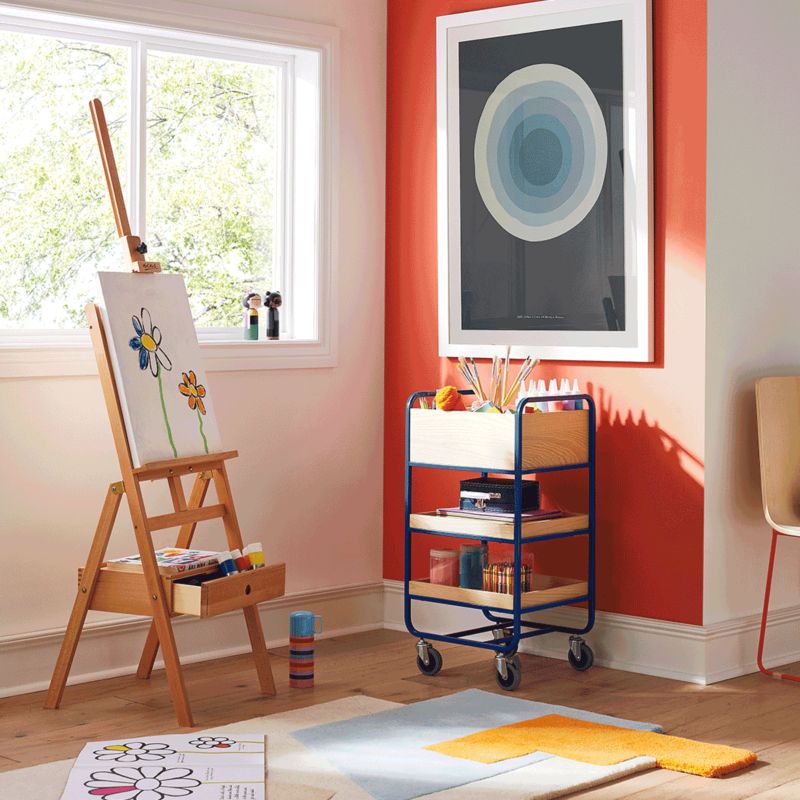 Keep art supplies tidy and at the ready for your little artist with our design-forward Studio Art Cart.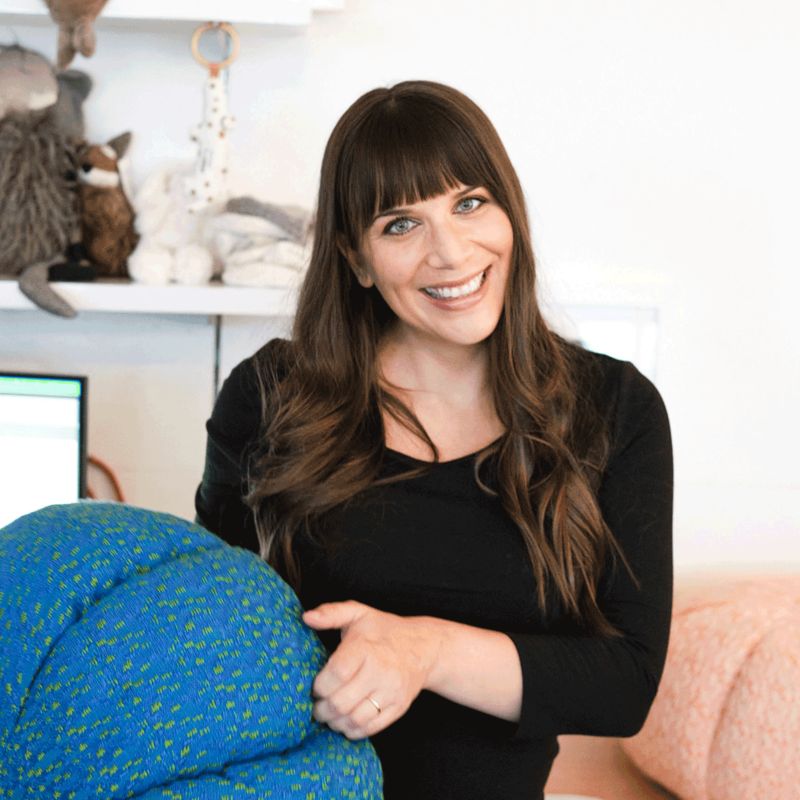 RACHEL VAN TIMMEREN
The textile designer for Crate and Kids loved bringing the colourful collective vision for the collaboration to life.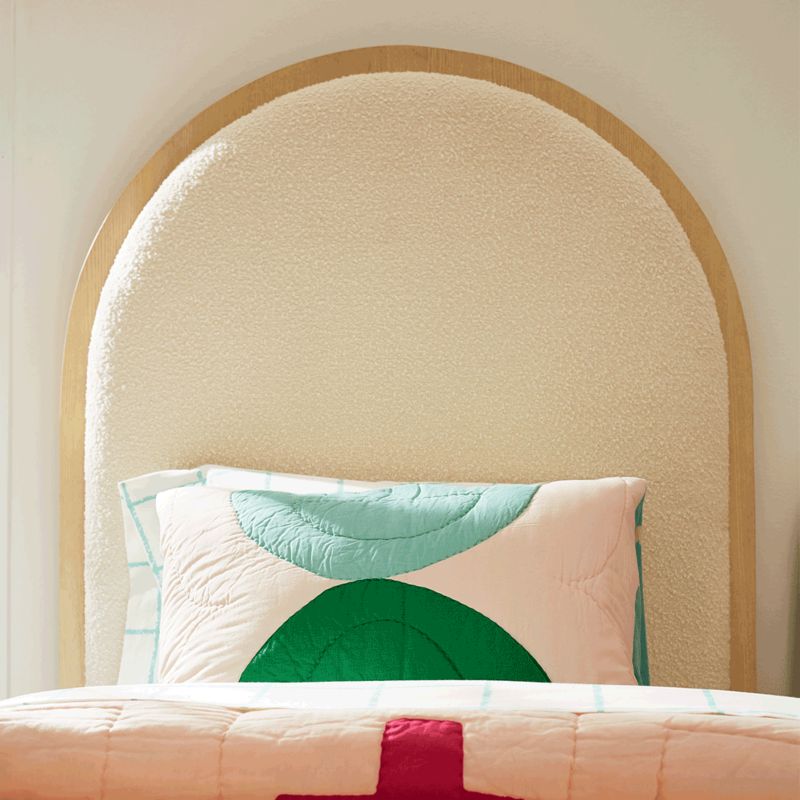 "I hope customers feel the energy and passion that went into this collection. Artists Mary Matson and Jeff Canham are so inspirational. It's exciting to see their artwork translated into textile designs for kids. There is such a freshness and design-forward sensibility throughout the entire collection that I hope our customers love as much as I do!"
Shop the collection here!