Looking for a new way to bring holiday cheer to your home? Deck the halls—and the doors, mantels and tabletops—with Christmas wreaths. Whether timeless pine ones or modern metallic designs speak to you, there are creative ways to weave them throughout the home. From the classic to the unexpected, read on to discover our favourite indoor Christmas wreath ideas to inspire your holiday display.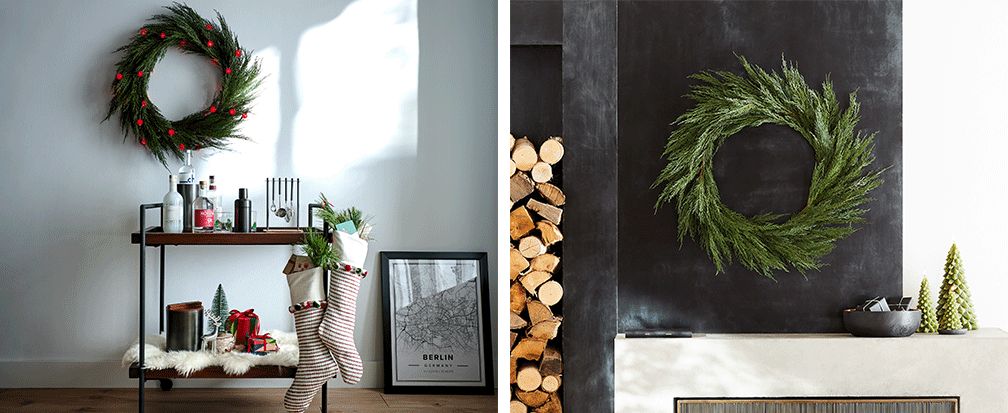 Simple Wreath Ideas for the Living Room
On the Mantel: If you have artwork above your mantel throughout the year, consider taking it down for the holiday season and replacing it with a cluster of wreaths in various sizes. Choose the largest one to act as the central focal point, and incorporate smaller ones around it. Try mixing and matching different colours and materials for a one-of-a-kind look. Additionally, you can hang smaller wreaths in a row above the mantel from colourful ribbons. If you don't want to put holes in the wall to hang wreaths, you can also line them on top of the mantel, leaning against the wall. Complete the look with a simple garland, Christmas lights and a few ornaments.
For the Coffee Table: Bring a festive touch to the living room by fashioning a coffee table centrepiece with mini wreaths. To add even more ambience, nest classic ball ornaments in the centre of each. Choose ones that complement the Christmas tree decorations for a unified aesthetic, or mix things up with different colours for an eclectic take.
In Small Spaces: A traditional Christmas tree leaves a big footprint in the home, so a wreath display is a creative way to save space. Rather than going with a pine tree in a corner, hang a pyramid of small wreaths on the wall to evoke the silhouette of an evergreen. Another option? Turn the console table into the hub for your holiday decor—drape a garland across it, hang wreaths above and stack presents beneath.
For a Personal Touch: Display your favourite family pictures with a photo wreath. Whether the base is a lush green ring or a simple metal one, affix photographs of friends, family and pets with clothespins or glue. Alternatively, show off all of your holiday cards on the wreath. As more greetings arrive in the mail, it grows fuller.
Christmas Wreaths for the Staircase
Hang a line of wreaths from the bannister going up the stairs. You can choose two alternating coloured wreaths such as green and red for a classic aesthetic, or white and gold for a simple look. Balance the size of the wreaths with the grandeur of your staircase. Use small wreaths with a diameter of about 20 inches or less if the staircase is fairly small or narrow. Larger ones are appropriate for spacious stairs. Depending on your preference, your wreaths can be touching one another or spaced a few inches apart.
Wreaths in the Dining Room and Kitchen
Use Them in a Centrepiece: Reinvent your holiday wreaths as beautiful centrepieces for a Christmas table. A small wreath looks stunning laid flat on a table with a white candle or a glass vase in its centre. For long dining tables, lay a few coordinating styles in a row, and place large hurricane vases in the middle of each one. Fill the vases with festive berries, ornaments, pinecones or string lights. You can elevate your centrepiece by placing it on a cake stand or wood serving board as well.
Hang Them on Chairs: In a formal dining room, add a touch of colour to your table by hanging wreaths on the backs of the dining chairs. For a rustic dining room, opt for natural wreaths made with greenery or berries and use twine to hang them. At a more modern dining table, choose contemporary Christmas wreaths with metallic or clean white finishes. Use a sleek ribbon to attach them to the seats. For a simple display, consider adding wreaths only to the chairs at each end of the table. If you find mini wreaths just a few inches in diameter, use them as decoration on your place settings, attaching ribbons and a name card to each. Place them on top of every plate around your holiday table.
Put Them on Cabinets: In the kitchen, consider hanging small Christmas wreaths on every other cabinet in the space. Use a large, colourful bow to hang simple green wreaths. They'll pop beautifully against stained wood or white kitchen cabinets.
Make a Chandelier: A wreath chandelier above the kitchen island or bistro table adds a festive touch. Start by installing a ceiling hook overhead. Next, twirl some battery-operated string lights around the wreath for an ambient glow. Then, determine what you'd like to use to hang it—the fishing line gives it a floating illusion, while the ribbon adds seasonal charm. Once the wreath is overhead and oriented flat, hang a few tree ornaments at different heights from the bottom for more visual interest.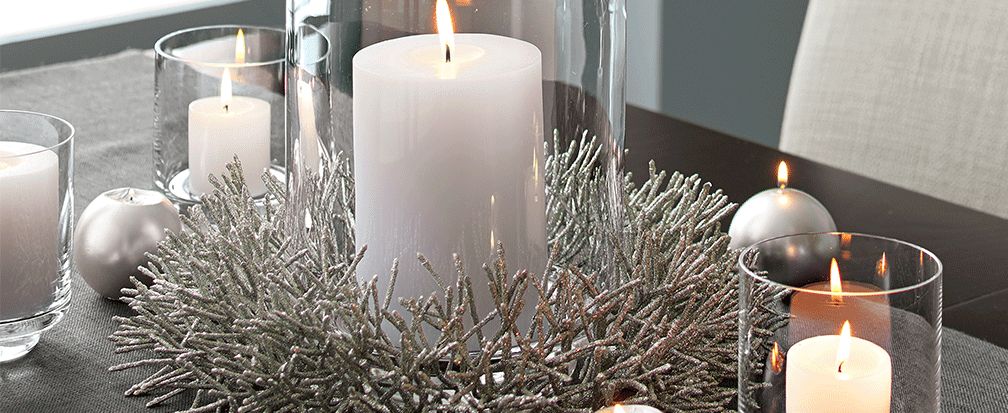 In the Bedroom
If all the bedrooms in your home share a hallway, incorporate some festive decor by hanging a miniature wreath on each of the bedroom doors. If you have kids in the house, you can let them each pick out their own special wreath for their door. Alternatively, for a more cohesive look, use matching ones and add your children's initials to them, marking their bedroom with some personality.
Tips for Choosing a Christmas Wreath
From pine boughs to colourful ribbons, there is a multitude of different materials used to make Christmas wreaths. Each material offers its own aesthetic to coordinate with your style. Remember, you can personalise a pre-made option to coordinate in your space, too. For instance, adding ornaments, string lights or a few faux flowers in complementary colours gives the presentation a polished look.
Consider size, shape, colour and more before purchasing the perfect Christmas wreath for your space. As a general rule, for a standard 36-inch front door, you'll want one between 20 and 28 inches in diameter. Inside your home, measure your space to decide how large or small you want the wreaths to be. If you want a style that will last for years to come, make sure to purchase one made with faux botanicals. If you would rather enjoy the smell of pine or holiday plants, choose a fresh wreath for the season. Finally, don't forget to purchase the proper supplies to hang and store your wreaths, from door hangers to wall hardware.